Conducting oxide interfaces
The emergence of novel physical properties at the interfaces between complex oxides has been attracting considerable interest since the discovery [1] of a (super)conducting state in structures made of a thin LaAlO3 layer grown on top of a SrTiO3 substrate, both nominally insulating compounds.
From the report of the superconducting ground state [2], LaAlO3/SrTiO3 heterostructures have been part of the scientific agenda of our group. Exploiting the potential of the field effect approach, we have tuned superconductivity, revealing a dome-like behaviour of the critical temperature with carrier density [3]. In the normal state, the analysis of the magneto-conductance uncovers a strong spin-orbit coupling [4], whose origin stems from a subtle balance between charge confinement and atomic spin-orbit interaction [5]. The strength and tunability of the spin-orbit coupling enables the operation of spin-charge conversion devices [6], an important effect for spintronic applications.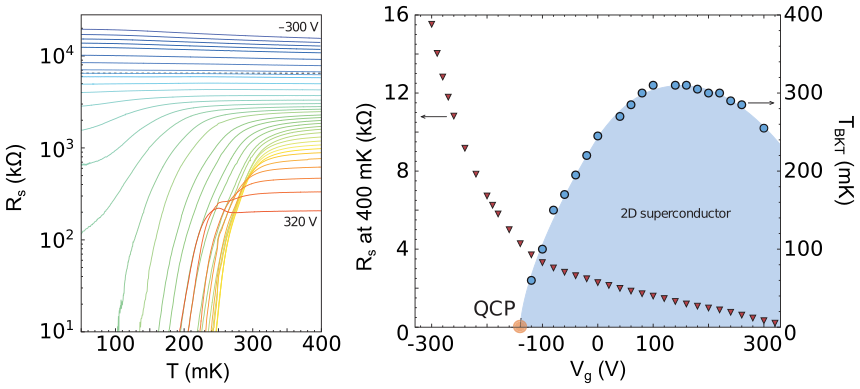 [1]. A. Ohtomo and H. Y. Hwang, Nature 427, (2004)
[2]. N. Reyren et al. Science 317, (2007)
[3]. A. Caviglia et al. Nature 456, (2008)
[4] A. D. Caviglia et al., Phys. Rev. Lett. 104, 126803 (2010)
[5] S. Gariglio et al., Rep. Prog. Phys. 82, 012501 (2018)
[6] J.-Y. Chauleau et al., European Physics Letters 116, 17006 (2016)